Codex Urbanus
The Völklingen Ironworks flooded in red light
Copyright: Weltkulturerbe Völklinger Hütte | Oliver Dietze
Werke
Steam Burlesque

CU AFFICHE CODES DE 1
Copyright: Codex Urbanus
Description
The Parisian artist Antoine Techenet alias Codex Urbanus has become famous especially for his fantastic animal creatures, which for Urban Art Biennale 2022 he is now bringing to the urban space of Völklingen—in the underpass between the World Heritage Site and the train station. In the exhibition area on the grounds of the Ironworks, by contrast, he has designed tongue-in-cheek exclusive film and theater posters for the advertising column at the bottom of the stairs to the Charging Platform. His beasts appear here as well, but the real highlight is that the star of his imaginary film and theater productions is the Völklingen Ironworks itself. In the artist's eyes, its brutish appearance makes it the ideal venue for a horror film, which is why Völkzilla—a clear reference to the classic monster film Godzilla—is wreaking havoc among the smokestacks of Völklingen and not, like its role model, among Tokyo's high-rises. Techenet's gothic and steampunk socialization is crucial to the fitting optics of the spine-chilling Steam Burlesque.


No title
2022, in situ
Fig 537: Aristeis Globus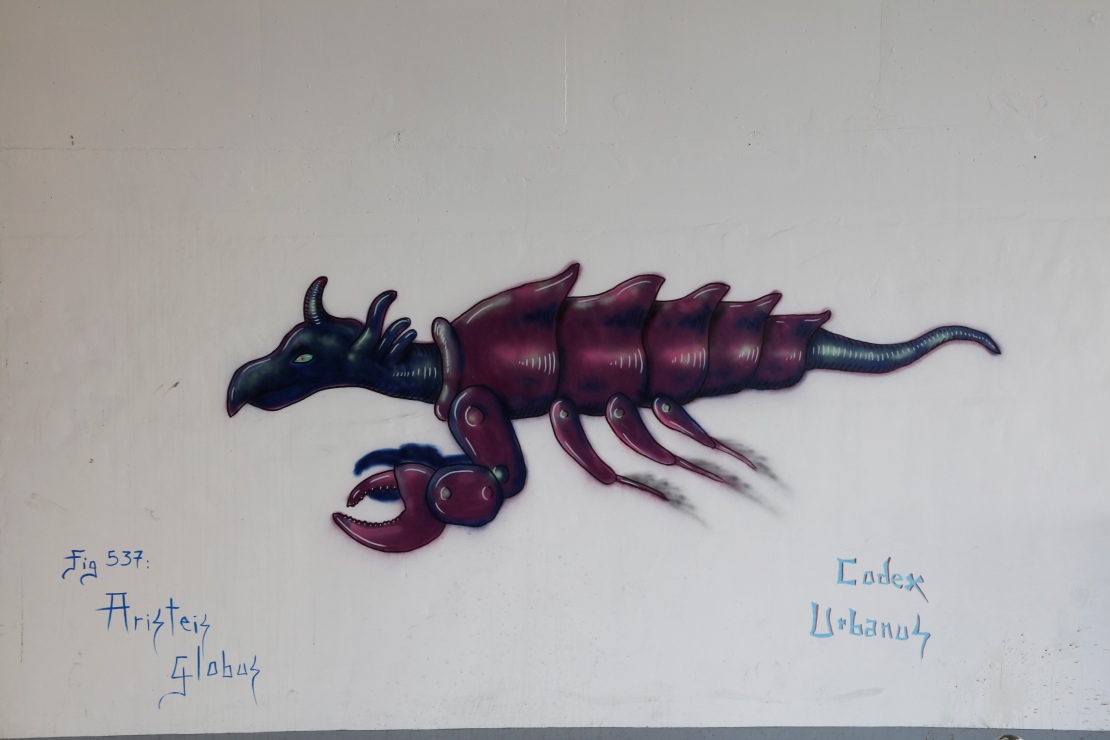 Codex Urbanus Globus Unterf
Copyright: Weltkulturerbe Völklinger Hütte / Karl Heinrich Veith
Material
Spray paint, varnish, concrete
Description
In the case Codex Urbanus, the artist's name and the work are one. Bored with his respectable career, the rock fan Antoine Techenet, born in Paris in 1974 as the son of a pharmacist, began to draw strange beasts. By combining the animals known to science, Codex Urbanus has been creating new species. Because animals need a habitat, he began to let his creatures run wild: on the walls of Montmartre, which has long since been famous as a biotope for beings from the demimonde. Thanks to his good bourgeois education, initially he hesitated to apply the creatures directly as graffiti. He first drew them on ceramic plaques that he then applied. Later, however, he switched to drawing directly on the wall with paints and markers. When the "alchemic vandal" releases his creature, he—always the discoverer—gives them an appropriate Latin name. Hence we encounter Suricatta Sepianæ, the cuttlefish-meerkat, and Mamothos Araneus, a hybrid of mammoth and spider.
How do the native creatures react to these invasive species? We consult Codex: "At first glance, they look disturbing, but my monsters are a lot of fun for children in particular." Curiosus Homines of all ages now set off on a voyage of discovery in the postindustrial biosphere on the path from the Völklingen Ironworks to Völklingen City.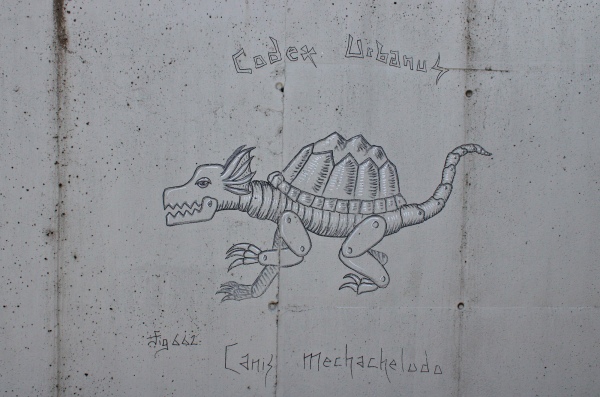 Fig 662: Canis Mechachelodo
2022, in situ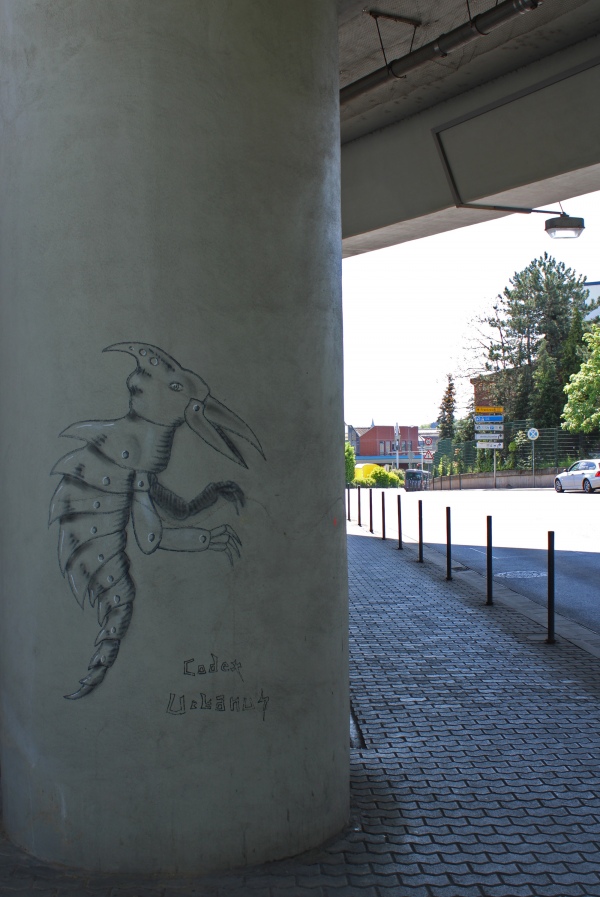 No title
2022, in situ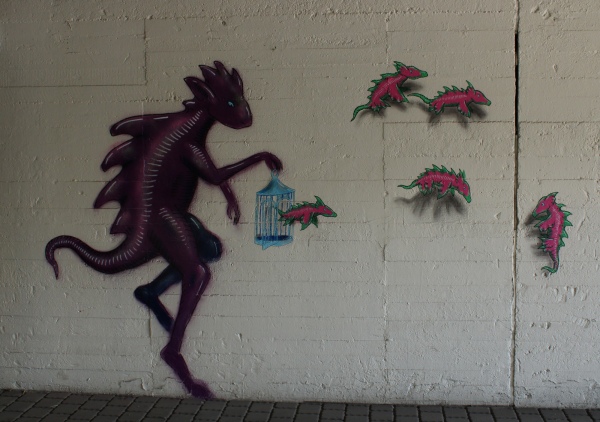 No title
2022, in situ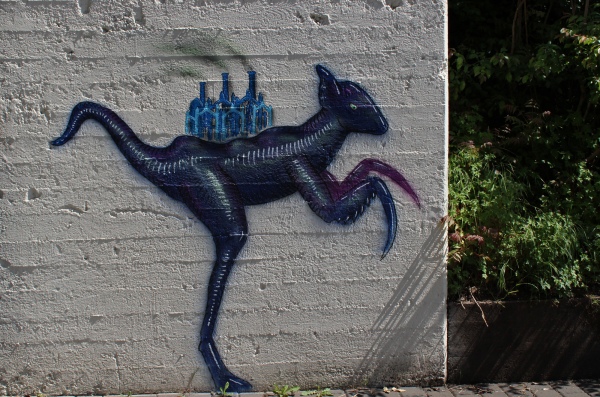 No title
2022, in situ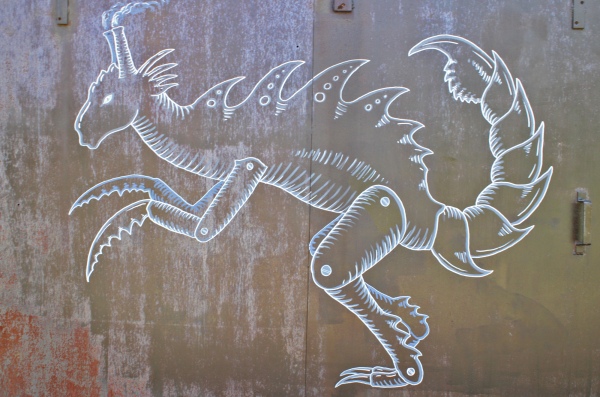 Fig 574: Chimera Volklingensis
2022, in situ