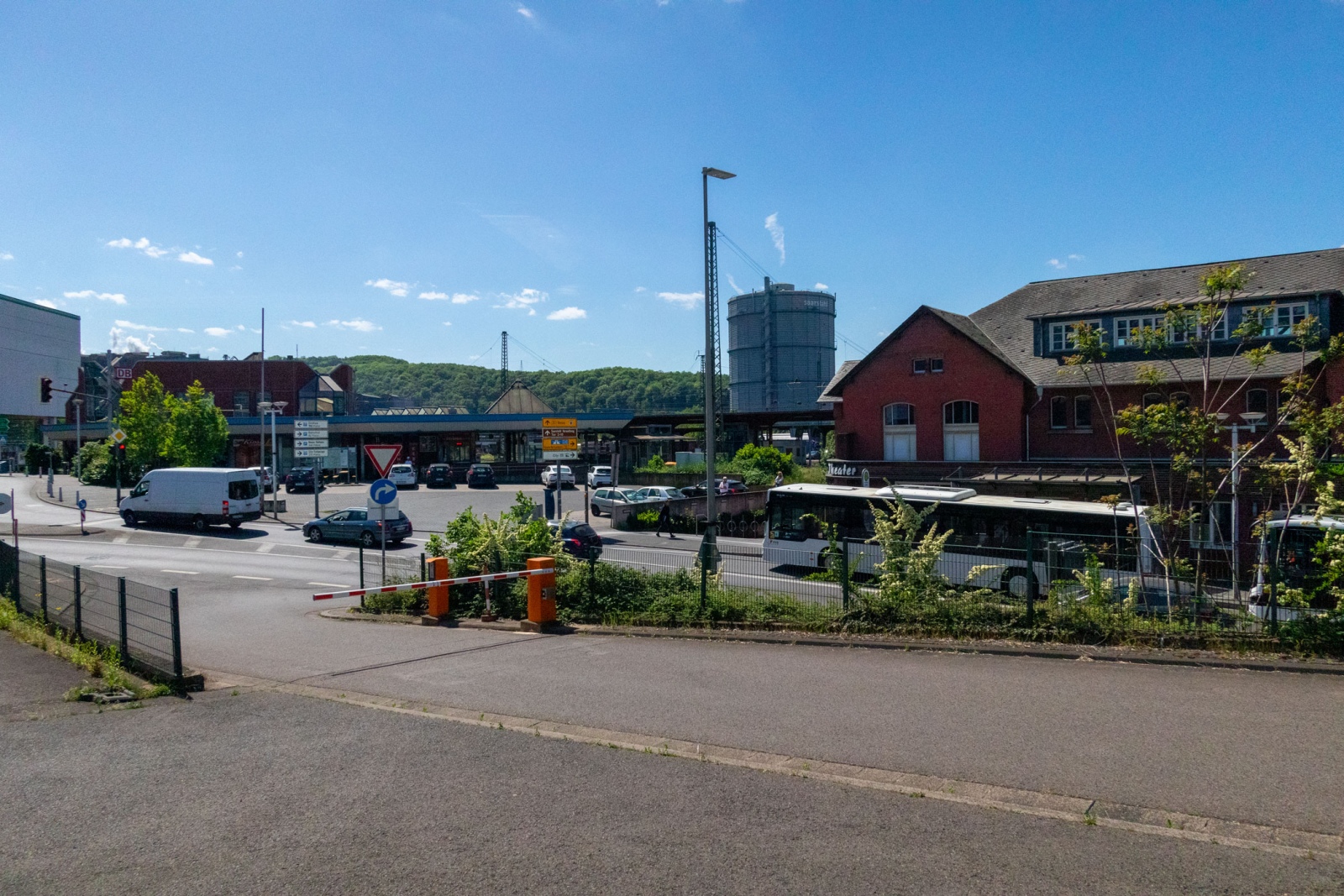 Bahnhoefe
Copyright: Weltkulturerbe Völklinger Hütte / Karl Heinrich Veith
Description
With the economic growth of Völklingen engendered by the ironworks, the train station, which opened in 1858, evolved into a heavily frequented passenger and freight hub. The industrialist family Röchling opened their first smelting furnace nearby in 1881, and less than a decade later, in 1890, the Röchling'sche Eisen- und Stahlwerke [Röchling Iron and Steel Works] was the largest manufacturer of iron girders in the entire German Reich. The village of Völklingen developed into a powerful industrial location.
The location of the station, with connections to the primary and secondary lines of the Saar Railway, proved particularly favorable. On the one hand, it made it possible for numerous commuters from the surrounding area to easily get to the Völklingen Ironworks and, on the other hand, that the ironworks could be supplied with Lorraine ores and coal from the local mines.
In 1893, due to the steadily increasing number of commuters, a larger station building was needed and the now so-called Old Station was built. The Old Station was heritage listed when it closed in 1992.
During the First World War, numerous military trains passed through Völklingen station on their way to the Western Front. Between 1920 and 1935, during the time of the League of Nations, the train station was shared with the Alsace-Lorraine Railway. Towards the end of World War II, blown-up bridges and bombing raids put an end to train traffic in Völklingen. With the reconstruction and economic boom of post-war West Germany, however, production at the Völklingen Ironworks increased unabated until the steel crisis in the mid-1970s. In 1964, traffic at the station reached its pinnacle with 16,000 passengers a day. That same year, several carriages filled with the first 196 Turkish guest workers arrived at the station—only a few meters away from where Hendrik Beikirch, within the framework of the Urban Art Biennale 2022, has created a monument to the Turkish-born Kaya Urhan, as a visual representative of all gastarbeiter, in the form of a façade portrait.
During shift changes, massive streams of people flowed between the ironworks and train station. The numerous thriving pubs in town tapped large quantities of beer in advance so that the commuting workers would not have to wait and run the risk of missing their train home.